Request a Cleanroom Quote
Modular Cleanroom Design & Construction
Precision Cleanrooms has been implementing world-class modular clean room solutions for a diverse customer base since 1989. We offer full-service turnkey modular cleanroom installations from concept to creation. Our team has many years of experience in designing and constructing hardwall cleanroom environments for a wide range of industries and markets. Our team's combined knowledge base and skill set brings you business-specific modular cleanroom solutions with flexibility, scalability, time-sensitive installation and a performance guarantee.
Precision Cleanrooms Modular Clean Room Benefits
Modular Design & Assembly – Our hardwall cleanrooms are designed and pre-fabricated using customer-provided protocols and specification. A site supervisor maintains clean on-site assembly and efficient installation. Our installation crews travel nationwide and construct your modular cleanroom to predetermined schedules until the modular cleanroom project is complete through certification. Our goal is to design and construct modular cleanrooms to enhance your business productivity.
Expandable Structures – Our cleanrooms are truly modular and can be expanded or modified as needed with minimum downtime and interruption to your business activity.
Cleanroom Customization – We off­er ISO Class 3 clean rooms to ISO Class 8 clean rooms, as your specifications require, with cleanroom certification services available. Our seismic-zone rating and structural integrity will meet or exceed the building requirements for your city and state.
Turnkey Offering – Our business model caters to comprehensive projects addressing all 17 construction divisions. Our interactive design philosophy allows us to deliver hardwall cleanroom solutions with energy efficient operations and long-term life cycles.
Performance Guarantee – We guarantee that our modular clean rooms meet your project requirements and exceed your expectations for quality and service.
Our Turnkey Cleanroom Process
Cleanroom Consultation
Comprehensive Cleanroom Project Management
Cleanroom Preventative Maintenance
Modular Cleanroom Designs
Direct-Ducted Terminal Units
Fan Filter Units
Pressure Plenums
Negative Air Plenums
Primary/Secondary Air Delivery
Laminar Air Flow
Unidirectional Air Flow
Dilution Air Flow
Modular Cleanroom Mechanical Systems
Chilled Water Systems
DX Systems
Hot Water Systems
Steam Systems
Heat/Cooling Recovery Systems
RODI Water Systems
High Purity Gas Piping
Carbon Filtration
Exhaust Systems
DDC Systems
Fume Hood Control Systems
Various Air Handling Systems
Modular Cleanroom Classifications
Precision Cleanrooms' modular cleanrooms are designed to meet your ISO classification requirements. With our gasket ceiling grid and flush wall panels, we can achieve your desired modular cleanroom particulate levels:
Class 1 / ISO 3
Class 10 / ISO 4
Class 100 / ISO 5
Class 1,000 / ISO 6
Class 10,000 / ISO 7
Class 100,000 / ISO 8
Turnkey Modular Cleanrooms Implemented:
Optical Cleanrooms
Nanotechnology Cleanrooms
Microelectronic Modular Cleanrooms
FDA Modular Cleanrooms
Aerospace Hardwall Cleanrooms
Microelectronics/Nanotech Cleanrooms
Research & Development Modular Cleanrooms
Manufacturing Modular Cleanrooms
Defense Industry Cleanrooms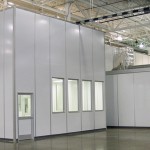 Our expertise in modular cleanroom design and manufacturing, together with our commitment to customer support, enables us to provide world-class modular cleanroom solutions to diverse markets around the world.
A2LA 17025 Accredited Cleanroom Design/Build Company
Precision Cleanrooms is an A2LA 17025 Accredited provider of customized cleanroom solutions, specializing in the design, construction and certification of modular cleanroom environments. Precision Cleanrooms is a division of Precision Environments Inc.