Request a Cleanroom Quote
Cleanroom Construction & Installation
Precision Cleanrooms has been a world leader in modular cleanroom construction since 1989. Precision Cleanrooms delivers flexible solutions and a performance guarantee. Our project managers have input into estimating cost efficiency and design to ensure construct-ability, and they oversee each cleanroom design-build project from receipt of PO to owner acceptance.
Precision Cleanrooms' installation team includes an operations manager, project managers and construction managers. We employ both union and non-union local trades with the appropriate cleanroom construction experience for physical installation. Site personnel are OSHA trained and certified. The cleanroom superintendent conducts weekly job box safety meetings with full team participation to ensure compliance. All modular cleanroom environments are installed according to the appropriate cleanroom construction protocol. Our process is closely managed to maintain or accelerate schedule, quality and safety.
Cleanroom Construction Team
Senior Project Manager
The senior project manager is responsible for all facets of the project, ensuring timing, budget, quality and performance. The project manager submits a weekly construction report, detailing cleanroom project progress and projection.
Engineering Manager
The engineering manager is responsible for assuring that the cleanroom achieves all design criteria.
Site Superintendent
The site superintendent is the main point of contact for coordination throughout cleanroom construction and remains on site for the duration of the project. The site superintendent conducts weekly safety meetings to ensure compliance to PE safety policy. The site superintendent is responsible for quality control, schedule and on-site construction activities.
Skilled Trades (union and/or non-union)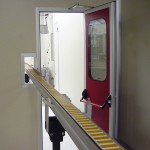 Company Benefits
Streamlined cleanroom installation process, offering low time to delivery and guaranteed performance
Highly skilled and experienced cleanroom construction teams with vast industry experience
Weekly cleanroom installation safety meetings to ensure compliance
Turnkey design-build capabilities
Accelerated construction processes to ensure timely delivery
Experience in fast-track cleanroom projects
Cleanrooms components that allow for seamless modification and scalability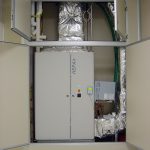 Installation Protocol
Building a cleanroom "cleanly" is important to the long-term success of the cleanroom's operation. Precision Cleanrooms implements a construction protocol appropriate for the type and classification of the cleanroom being constructed. Click the following link to download our Cleanroom Installation Protocol Guide.
Company Contact:
Contact Precision Cleanrooms today for the construction of your cleanroom. Precision Cleanrooms' turnkey offerings promise a detailed interactive process with performance guarantee.
Click here to contact us
Learn more about our other cleanroom services:
Cleanroom Construction and Installation
A2LA 17025 Accredited Cleanroom Design/Build Company
Precision Cleanrooms is an A2LA 17025 Accredited provider of customized cleanroom solutions, specializing in the design, construction and certification of modular cleanroom environments. Precision Cleanrooms is a division of Precision Environments Inc.