Your Local Boston Design/Build Modular Cleanroom Partner
Your turnkey cleanroom design company, serving the greater Boston area for over 25 years.
A Leader in Cleanroom Design and Construction Services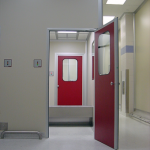 As a nationally recognized leader in cleanroom innovation, Precision Cleanrooms is a one-stop source for world-class design-build modular cleanroom services. Precision Cleanrooms' turnkey offering covers the entire cleanroom implementation process, from concept to certification. Contact our local Boston cleanroom experts to discuss your next cleanroom project.
Our Boston cleanroom contractors offer turnkey design/build modular cleanroom services. We partner with you from project initiation, assuring that every step of the cleanroom design and implementation process guarantees a high performing operating environment. All cleanrooms designed, built, certified and warrantied by Precision Cleanrooms are compliant with ISO 14644-1 standards. We guarantee that our cleanrooms meet your project requirements and exceed your expectations for quality and service.
Our Services
Our Boston Modular Cleanroom design and development team has years of quantifiable success in the engineering, design and construction of modular cleanroom environments.
Cleanroom Training and Maintenance
Precision Cleanrooms has been serving the greater Boston area since 1986. Our Boston Cleanroom experts will partner with your business to deliver a high-performing modular cleanroom that enhances your business results.
Contact Our Local Boston Cleanroom Sales Rep
Local Sales Contact
Bryan Scrocca
Boston, Massachusetts
781-272-4540
Industries Served:
Biotech Cleanrooms
FDA Compliant Cleanrooms
Life Sciences Cleanrooms
Medical Device Cleanrooms
Aerospace Cleanrooms
Microelectronics Cleanrooms
Nanotech Cleanrooms
Research & Development Cleanrooms
Defense Industry Cleanrooms
Higher Education Cleanrooms


Precision Cleanrooms is a turnkey modular cleanroom design/build company with A2LA 17025 accreditation. Precision Cleanrooms is a division of Precision Environments Inc.